Collaborative robots are the new ideal co-worker. However, you may ask yourself what is the best collaborative robot out there. The answer: The one that fits your needs! Are you doing research or are you in a high production application? Do you need to carry a 10g PCB or you are carrying a heavy metal part… Here's a short resume of which collaborative robot should suit your needs.
RETHINK ROBOTICS
Baxter:

Photo Credit: Robotiq

PRICE: $$$
SAFETY: +++++
PAYLOAD: +++

The first release from Rethink Robotics was the 2 armed funny faced Baxter. This robot got a lot of attention because of its unique features. In fact, cameras and a LED tablet as a face, the robot was very different from other robots on the market. However, even if it offers a variety of functionality, the accuracy and repeatability is not there. In fact, the "cable pull" motor made the robot shaky and kind of bulky. It is god damn safe, though. It moves very slowly and has a soft cover which helps avoid injury. We have seen the robot in packaging applications and machine tending applications. If you can compensate for the lack of repeatability through other mechanical devices, you are good to go..
Saywer:

Photo Credit: Robotiq

PRICE: $$$
SAFETY: +++++
PAYLOAD: ++++

This is the latest robot model from Rethink Robotics. There aren't a lot of Sawyers on the shop floor yet, but you can see that they have made major efforts to get its mechanics a lot stiffer and more accurate. In fact, even if they kept the same motor principle, the robot seems to be less shaky and a lot more repeatable. With the same embedded vision you can track human presence and locate parts by vision. This is really cool and it is the kind of application that we have seen widely used in research. We are even seeing a bigger interest for commercial uses. Hopefully Sawyer will be make its way into the collaborative robot market.
UNIVERSAL ROBOT
UR10:

Photo Credit: Robotiq

PRICE: $$$
SAFETY: +++
PAYLOAD: +++++

The UR10 has a 10 kg payload and is purposed for heavy duty human sized tasks. In other words if you need some strength to carry a certain object, you may want to use this robot. It has a repeatability of 0.1 mm and has variable safety settings for when human coworkers are working beside the robot.

I have personally used this robot, it is quite impressive and a little unnerving to work alongside at first, because of its power and size. However, once you have figured out, it is pretty easy and friendly to work with.  

UR5: 


Photo Credit: Robotiq

PRICE: $$
SAFETY: ++++
PAYLOAD: ++++ As you have probably figured out, the UR5 has a 5 kg payload and is purposed for medium size applications. Most of the time the robot won't be limited by its payload, but by its reach. It is really well matched for machine tending applications, assembly task and dispensing. The robot is literally a scaled down UR10. 

This is usually the robot we will be fitting our 2-Finger Grippers on. Since the payload of the robot and Gripper are well suited to each other, they have the same flexibility and can be used around human workers, it only makes sense to put these two together. 

UR3:

Photo Credit: Robotiq

PRICE: $$
SAFETY: +++++
PAYLOAD: ++

The little brother of the UR family is way smaller and is purposed for very specific applications. In fact, with a 3 kg payload, it is limited to smaller, lighter applications, since with a 0.8 kg payload it can really only carry light parts. But this is the reason why Ur decided to design this robot; to complete its robotic line with a robot that would be more suited for electronics and light assembly. With a growing part of today's market being electronic oriented, it is logical to have a robot like this in their line. Notice that this robot is the only one with infinite wrist rotation.

Once again I have been fortunate enough to use this robot quite a bit and it is easy to use and also very safe since it doesn't go superfast and does not carry a lot of weight.
KUKA LBR IIWA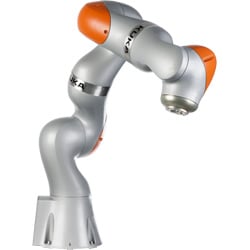 PRICE: $$$$$
SAFETY: +++++
PAYLOAD: +++
KUKA usually provides high quality robots and in this particular case, it is one hell of a good robot. At a very high price ($100k+), this robot has the reputation of being the best collaborative robot on the market and has a 7 or 13 kg payload. The robot can adapt to its environment and can also adapt its motion by 'learning' from previous experiences. It is usually purposed for research applications. In fact, I have seen very few real industrial application with this robot. However, I have seen a bunch of incredible proof of concepts such as spatial agencies and other high tech labs.
The LBR IIWA makes a good fit with our 3-Finger Adaptive Gripper. In fact, since this Gripper is highly flexible, it has interesting features for high tech labs.

ABB YUMI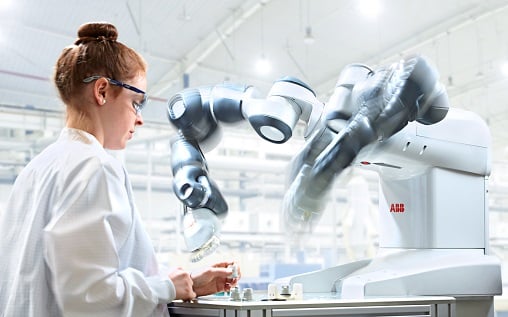 PRICE: $$$$$
SAFETY: +++++
PAYLOAD: +
The YUMI robot took a pretty damn long time to design and commercialize, but they finally did it. With a diminutive 0.5 kg of payload (each arm) the robot is perfectly suited for electronic assembly. It is precise, repeatable and has a small footprint. If you are working with electronic devices at a high production rate, this is THE robot you want to look for. It is probably the only robot on the market that can achieve such task without crushing all your PCB's.
FANUC CR-35IA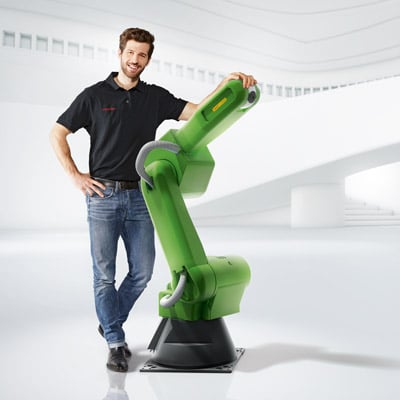 PRICE: $$$$$
SAFETY: ++
PAYLOAD: +++++
The diminutive payload of the Yumi is the extreme opposite of the huge forces available with theGreen Fanuc. In fact with its 35 kg payload, it can carry a bunch of stuff. It was designed for the automotive industry. When you say high payload, you also say bigger reach. This robot has the largest payload in the industry, all of that combined with the largest reach in the industry. The reason for this is that the robot is simply a regular industrial robot mounted on a big force torque sensor and covered with a rubberized skin. This allows it to detect forces (FT sensor), as well as reduce force impact and pinch points (rubber skin). It is really designed for companies with fairly consistent production lines. Since two advantages of having a collaborative robot are to reduce fencing and make it easy to use through the "programming by demonstration" feature. The CR-35iA is only meeting one of these 2 advantages, since you still need to figure out classic robot programming to make it work… The robot is still pretty expensive, because they don't mass produce it yet. But, I'm sure it has a market and as it gains traction, the price will certainly go down.
To get information on all of the collaborative robots presently available on the market, you may want to download our eBook and comparison sheet. This will give you a better idea of the details for each robot (minus the price, as this changes too much). Look for what best suits your application and ask for a quote from your closest robot integrator or robot dealer.
Photo Credits: Robotiq
Our thanks to Robotiq for submitting us this article. Original article can be found on their site.